What you Need
Before starting work on building your computer, you need a few tools. You can start off with the bare minimum and over time build up on more specialised tools just to make building computers a little easier
The basic tools you need are:
Screwdriver - It is recommended that you have both a flat blade and phillips head screwdriver as well as a Torx head screwdriver. Both an electric or manual are okay. I find the best solution is to buy a ratcheting screwdriver or one where you can replace the bits. This is easier than switching screwdrivers or needing to buy a whole bunch of different sized ones. The use of a screwdriver is becoming less and less though as many cases now are tool-less.
Spanner - The main use for the spanner is to put in motherboard stands. This can usually be done with some screwdriver bits which are hollow and hexagonal.
Torch - A torch is needed to plug in the small pins for the power switch on the motherboard and USB/Audio cables. It also makes it easier to read the little labels on the motherboard
These three tools are the bare essentials for building your computer although there are some other tools you might want to consider such as: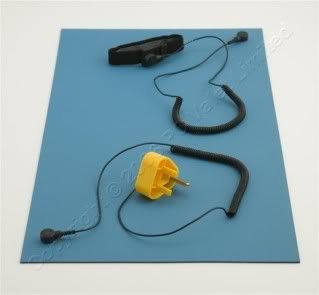 Anti-static kit - This is a very handy thing to have and if you are going to be around computers a lot in conditions where you get zapped everywhere, it is a good idea to invest in this. Basically, it comes with an anti-static mat where you can lay components such as the motherboard and video card on. It comes with a wrist strap and an alligator clip to connect to a non-painted surface of the case. This keeps you, whatever is on the anti-static mat and the case at the same electrical potential making it impossible for static electricity to damage your components. If you haven't invested in one yet, a precautionary measure to take would be to touch the I/O shields on the parts before touching the chip. The I/O shield is where the ports are located, it is a shiny metal box which covers the ports. Touching these will leave you at the same electrical potential as the component. These can be found in stores like Jaycar and Dick Smith.
Tweezers - Tweezers are useful for pulling jumpers out of hard drives and IDE disk drives. It is also useful for plugging in the tiny pins on the motherboard as this can be a challenging task for those with big hands.
Cable Ties - Cable ties come in handy after finishing building you computer. They help withcable management and keep air flowing through your case nicely as well as making it look nice
This covers basically all the tools you need to build a computer. As time goes, more specialised tools are available but in the beginning you won't really need this. This goes to show just how simple building a computer is. Now with tool-less cases, you won't even need a screwdriver (but it's always good to have one on hand).