What to Look for in a Motherboard
Click to go to section
The motherboard is another crucial part of the system. It is often referred to as the heart of the system. It is what sends the messages around the system telling components what to do and when to do it. There are several manufacturers of motherboards. These are Asus, Gigabyte, Abit, MSI and Nvidia. Two of the biggest motherboard brands are Gigabyte and Asus. The motherboard brands do not only limit themselves to motherboards. Many such as Gigabyte, Asus and MSI also manufacture graphics cards.
The motherboard has many features which means there are many things to consider before buying one. All these choices will have a huge effect on the end price meaning that with expensive parts, you can't skimp on the motherboard and blowing all your budget on an expensive motherboard and using low end parts is a waste of resources. So consider carefully before buying and if in doubt about the compatibility, check the manufacturers website. I have added all of the website to the
Links
section of the website.
What are your components?
You need to consider what other components you will use. Take the CPU for example. Will you choose an Intel or AMD processor? This will heavily affect motherboard choice as
Intel and AMD
motherboards are quite different.
They both use different sockets and are not compatible with each other. Next, think about whether you need a graphics card. If you only use your system for basic stuff, then you most likely will not. In this case you should buy a motherboard with Integrated Graphics. The Integrated graphics will use your computers RAM instead of having dedicated video memory. This is why gamers do not use integrated graphics. It will eat up too much RAM. The other option is to buy a discrete graphics card which has its own inbuilt RAM for graphics processing. This is covered in more detail in the
Video Card
section.
RAM Anyone?
With
RAM
, you also need to think about whether you want DDR2 or DDR3 RAM. DDR3 RAM is more expensive right now and will only offer a small performance boost in comparison. It is not a necessity now but as i7 processors are becoming more and more common, DDR3 has become main stream. DDR3 is now cheaper than DDR2 RAM and it is now advisable to buy a DDR3 compatible motherboard (most of the new ones are) for your new computer. Motherboards will support different speeds of RAM. This is mainly the problem with DDR3 RAM. The fastest DDR3 RAM is only compatible with the newer, more expensive boards. This is why it is necessary to read all the specifications of your motherboard to ensure compatibility. The motherboard manufacturers website usually covers this in great detail.
Connections, Connections.
Motherboards will have internal connectors for USB, Firewire and Audio. Some will support HD Audio, others will not support firewire. You should check that the number and type of connectors match your requirements. Again, referring to either your motherboard manual or the manufacturers website should give you a good idea. These internal ports are used for things like card readers and external USB ports and Audio ports on the case. They are small 8-pin connectors and are often located at the bottom of the motherboard. Motherboard also have a number of slots. On the diagram below, these slots are located in the upper left hand corner. They are for adding devices such as video cards and wireless cards. Video cards will only work in PCI-E x16 slots. Some motherboards have two of these and others have three. This allows you to run
SLI or Crossfire
to virtually double your gaming performance. Other slots are PCI-E x1 which are slowly replacing PCI slots. Motherboards also have I/O ports which are the ports you use to plug normal devices in. These are at the rear of the computer case and are used for Ethernet cables, USB, firewire, Speakers etc. These should also be checked to see if you have enough ports for your needs. Most motherboards now have plenty of rear connectors.
Drives
Another factor for consideration is what type of drives you will install. Whether they will be SATA or IDE. These are two different interfaces used by drives. SATA is the faster interface which runs at 3Gb/s but there is a new version called SATA3 which runs at 6Gb/s but there are very few drives which support it currently. It is backwards compatible with SATA and SATA2 so you can get a SATA3 motherboard for the sake of future proofing.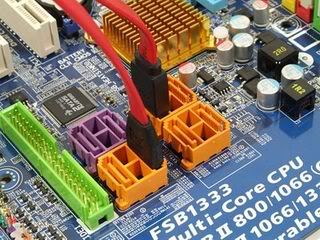 IDE is an older interface and is rarely used in computers today. It should only be considered if you have an older ystem in which you want to upgrade the hard drive. SATA is also available in optical drives now and so the need for IDE is completely gone. Some motherboards do not have any IDE ports because there really isn't any need for it but if you want it, that's something you need to consider. Most motherboards have at least 6 SATA ports which should be plenty but if you need more you will need a different motherboard.
Which Processor?
Your choice of CPU will also affect what motherboard you buy. You need to check the socket the motherboards uses and what front side bus it supports (FSB). A processor like the
Intel E6600 2.4GHz
requires an 800Mhz FSB. This means that a motherboard which supports a maximum of 667MHz FSB will not be compatible with the E6600 processor.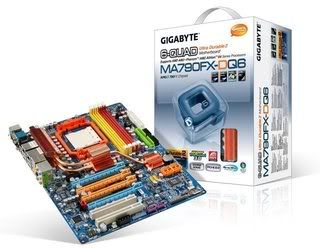 The final aspect of consideration is the use of the computer. This will dictate what chipset you need. I don't really know much about AMD chipsets so I will just give Intel chipsets as an example. For low computer users, you would want something like a G33 chipset which has integrated graphics. For average users, you would be looking at something like the P45 chipset which will require a graphics card and for heavy users, you would most likely want a motherboard with the X48 or X58 chipset which will support the latest components such as DDR3 RAM and 1333MHz processors. Recently Intel has started releasing P55 motherboards which support USB 3.0 and the latest
Core i5
processors. Most of these have
LGA 1156
sockets though and won't work with the faster Core i7 processors.
This is a basic overview of what you need to think about when wanting to buy a motherboard.
Here is a diagram which labels all the parts of a motherboard to show you where everything goes and give you a basic orientation of the motherboard: